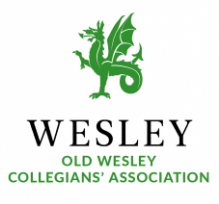 President's 2019 Wrap
Tuesday, January 21
The 2019 school year has flown by and we are just about to welcome approximately another 180 young men and young ladies (from Year 6) into our community as Old Wesleyans. Our female Old Wesleyans continue to grow in number and we are very keen to recognise them as part of the tapestry of the College. As such, we are currently seeking a female committee representative (and it doesn't have to be just one), so if you are interested or know of someone who may be, please get in touch with me.
Receiving Honorary Life Membership into the OWCA is a rare award, so it is with much fanfare that I announce two new inductees. The first being 'Mr Mathematics' and the College's second longest-serving staff member, Mr Peter Trend. Trendy, as he is known by most alumni (and we are all unsure whether that nickname is because of his surname or his snappy dressing over the last 46 years), is an absolute treasure trove of information on past students. We need to keep those stories alive, so we'll start that by bringing him into the OWCA midst.
The second inductee is one of the longest-serving patrons of the OWCA, the 7th Headmaster of Wesley College, Mr David Gee. We will present David with his life membership when we see him at the Moorditj Mob reunion next year.
It is also important to note the deeds of members of the greater Wesley community in their various fields. I could not attend Grand Final day for the Curtin University Wesley footballers, but the OWCA was heavily represented on and off the field as we secured four flags. In hockey, the WASPs Men's Premier League team also staged a huge surge in the final series to beat Hale School in an epic final. Old Wesleyans featured prominently in the WASPs team, with Dean Evans (79-84) in his first year of coaching. Not a bad record, Dean!
The Wesley Big Band has recently made The Ellington Jazz Club its home away from home with a sold-out gig in late September, and more dates on the way. Having external gigs has allowed the band to experience the raw exhilaration of live performance in front of good crowds, so the OWCA is heartened to see the Wesley Big Band share their talents with a wider segment of our community.
I am also excited to report that we saw an increased number of alumni donations to the Mildred Manning Scholarship Trust this year. The stories of past recipients and how the scholarships they received benefited them in their final years at Wesley is testament to how important philanthropy is to the College, so I congratulate you all on a fine effort this year. Thank you.
I trust that 2019 has been a productive year for you and your families. Stay safe over the summer break and I hope you enjoy this wonderful edition of Old School Ties.
GREG BROWN (82-86) | OWCA PRESIDENT