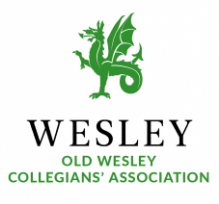 Ross Barron - Head of College
Friday, January 11
As 2018 draws to a very fast close, I am delighted to be asked to write for the Wesleyan, to give the community some sense of who I am and my journey before starting as the eighth Head of Wesley next year.
It is worth noting and acknowledging the 15 years of passionate and dedicated service that David Gee has given to the community. One thing that really stood out when he phoned to congratulate me on the announcement of my appointment was his supreme loyalty to Wesley: "Ross I will help you in any way I can to get you settled and have a successful time at the College. I love the place and want it to be successful moving forward." Authentic words from a man who has the best interests of the College at heart.
I am a proud West Australian, spending my formative years in Kalgoorlie, before finishing high school in Perth. My wife, Narelle, is also a WA country girl, born in Three Springs, before spending most of her childhood in Geraldton. We have two children: Abbey, 17 and Mitchell, 14 years old. I am pleased and at times surprised that both Abbey and Mitchell still enjoy going on holidays with us in our old caravan whenever we can. I have been fortunate that my family has supported me in the various roles I have had in education and my involvement with various community groups. They are also looking forward to being part of the vibrant and engaging Wesley community.
No doubt, many in the community will wonder what is the new Head like? In what direction will he take the College as we move to celebrate the centenary in 2023? My leadership style is to consult and learn, not to impose any preconceived ideas of what Wesley College should be. I pride myself on an ability to build high functioning teams that have a clear, shared vision and a framework that allows them to flourish and develop their own style and leadership capabilities. I am a leader who is present, being at the school gates, in classes, rehearsals, concerts, sport, and parent functions and events. By being a constant presence within the College community it will allow the community to know me, but it will also allow me to learn and be aware of any trends and issues, and to gain a clear picture of what is the essence of the culture that is woven through the fabric of the College. In short, 'to be known and to know'.
My educational experience has been varied, having worked in the state education system, overseas in Canada, co-education, country, metropolitan and different faith-based systems. These experiences have been a blessing as they have provided a broad spectrum of experiences and knowledge. A critical learning for me has been that teachers have the ability to achieve outstanding outcomes when they work in an environment where parents are part of the student-teacher partnership. As a teacher, I am constantly in awe of the achievements and gains that our young people make. Teachers who feel supported in an environment of a growth mindset, with collegial relationships, are free to show their talents and passions. These teachers invariably go above and beyond to guide and mentor their students to achieve amazing outcomes.
These experiences have provided wonderful opportunities to learn firsthand some consistent themes and traits that high-achieving schools and colleges place at the forefront of their thinking and values.
Some of these include:
Teaching and Learning – having the expectation that good teaching and learning is at the forefront of all that we do. It should be sacred and at the core of the collective thinking and resourcing. Every individual in the College has the right to learn and grow. Every lesson, every experience should be an opportunity to learn and develop, both inside and outside the classroom.
Excellence – A modern societal trend is to shy away from the term or concept of expecting personal best. If you expect the best of young people, you are rarely disappointed. I would argue that by not allowing our developing students to try their best, to show their God-given talents, to find their own passion and test themselves, we are shielding them from experiences to build resilience and be extraordinary, rather than expecting and accepting mediocrity. This applies to all aspects of college life, whether it be academia, culture and spirituality, sport, personal conduct and responsibility.
Relationships, Connection and Engagement – We often don't remember what our favourite teacher, coach or mentor said to us, but we always remember the way they made us feel. It is essential to build a critical mass of students who are connected, engaged and have positive and meaningful relationships. There must be a dichotomy of mentors and teachers who provide opportunities and experiences to connect and engage. It is our responsibility to provide numerous opportunities and programmes for all members of the community to find meaning, enjoyment, and a sense of belonging and connection. A college based on Christian and Uniting Church beliefs and principles provides a wonderful foundation for the values and moral code that should guide everyone within the community. The motto, 'By daring and by doing', matches my personality and values – that we allow our students to take calculated risks and learn from the outcomes.
Boarding has been a strong part of the life and history at Wesley; no doubt it adds value to the student flavour and culture having students from a diverse range of backgrounds. I personally have witnessed the benefits of a strong boarding component in schools and value the ongoing success and strength of having boarders as part of Wesley College.
The relationship with Penrhos also has a strong and rich history. I look forward to continuing the conversation with both college communities about this continued relationship and even look to building more and varied connections. An open and mutually beneficial brother/sister school relationship has, in my experience, only ever added value to both schools. This relationship is an important part of the well-rounded education of a Wesley boy, who leaves the College in Year 12 ready to flourish in the next exciting chapter of his life – a young man who is confident, engaging and respectful.
I have knowledge of the positive reputation and culture of Wesley College within the PSA and the West Australian context. The inclusive nature and progressive philosophy of the College is an acknowledged strength. The challenge for me as the next Head is to stay true to Uniting Church teachings and the school traditions while building a strong shared vision and understanding of what the College both stands for and is well known for.
It is an honour and privilege to be given the opportunity to lead such a fine college as Wesley. I look forward to working with the whole community, to writing the next chapter in what will no doubt be an exciting period that continues Wesley's reputation as one of the leading educational institutions in the State and country. Over the next few months, while I transition into the role, I am taking long-service leave to allow me the opportunity to finish my current role well, to provide some thinking space before starting at Wesley and to meet as many members of the College community as possible. This will help me to start building relationships and to learn what are the important aspects of the Wesley College fabric that are unique and should be honoured.
I look forward to 2019 and the exciting journey we will share together.